LAPTOP
COMPATIBILITY
Oculus works with all 11.6" and smaller laptops from Acer, Asus, Dell, Toshiba, Fujitsu, MSI, and Gateway, and some from Lenovo and HP/Compaq. Small laptops from Sony and Samsung have incompatible DC power jacks, but work fine otherwise.

Laptop compatibility generally depends on overall size, and power jack size. Virtually all laptops with 11.6" and smaller screens fit fine, as long as they weigh less than about 5lbs/2.5kg.
The laptop webcam must be at the top of the screen, and centered (up to 1" offset-from-center webcams will fit OK for laptops with 10" screens).
Laptops must be running the Windows 8/7/XP/Vista, or Linux operating system.
While the latest laptops offer better performance, older systems work fine: even the original netbook, the Asus EeePC 701 with Windows XP, runs well with Oculus. Manufacturing date of 2007 and newer is recommended.
The Oculus system ships with plug adapter tips to fit the following DC barrel jack sizes (outer diameter x inner diameter):
5.5mm x 2.5mm
5.5mm x 1.7mm
4.8mm x 1.7mm
4.0mm x 1.7mm
2.3mm x 0.7mm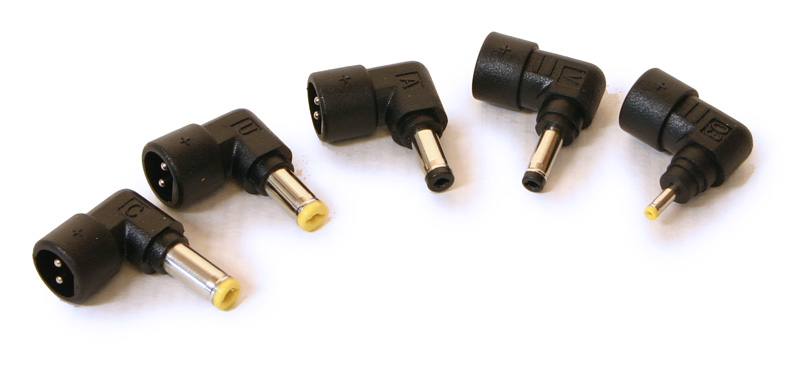 CONTACT US IF YOU'RE UNSURE
If you're unsure of what size DC connector your laptop has, or if it will fit in the frame — please contact us with your laptop make, model and model no., and we will promptly get back to you with an answer, no obligation implied. (Some of the DC connector measurements are very close so it can be tricky to define).
JUST RETURN IT IF IT DOESN'T FIT
If you purchase an Oculus system and find your laptop doesn't fit with the system, you will of course be able to return it no-charge.
OR JUST SPLICE THE CHARGER IN YOURSELF

If your laptop fits the frame (most with screens 11" and under do), but your power plug tip isn't one of the 5 sizes listed here, and you know how to do some very basic wiring, and don't mind chopping your charger cable in half (or getting another one and chopping that in half), you can easily make it work yourself. Basic instructions are here.
COMPATIBILITY
TABLES
DETAILED COMPATIBILITY TABLE: CLICK HERE
Our research shows that current model 11.6" and 10.1" laptops have the plug sizes shown below, and are compatible with the Oculus system:
Size
Manufacturer, 11.6" and 10.1" laptops, Oculus compatible
5.5 × 2.5
Toshiba, some Lenovo, Packard Bell, Fujitsu,

MSI

5.5 × 1.7
Acer, Dell, Gateway
4.8 × 1.7
older Asus Eee PCs
4.0 × 1.7
some HP/Compaqs
2.3 × 0.7
newer Asus Eee PCs
Known to be incompatible at this time: 10.1" laptops from Samsung, Sony