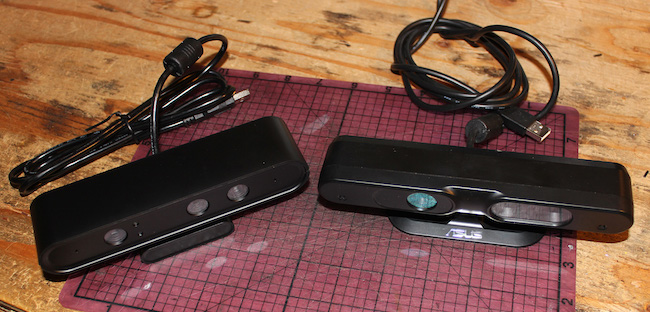 For the last year, Oculus Prime's go-to sensor for autonomous navigation/SLAM has been the Asus Xtion Pro Live depth camera (pictured above right). It is a fantastic device that has been a boon to mobile robotics in general. However, Asus discontinued production about a year ago, and lately availability has been getting scarce.
It was looking like we'd have to move to a much more expensive horizontal laser scanner for ROS navigation… until Orbbec came to the rescue! The Astra Pro (pictured on the left, above) has very similar but slightly better specs compared to the Xtion, and is even cheaper at only US$150, making it the lowest cost ROS compatible SLAM sensor on the market.
There are advantages to this type of sensor over a horizontal laser scanner; while it's not as quick for map localizing due to its narrow field of view, the full frame depth image allows Oculus Prime to sense floor plane objects such as drop-offs and low lying obstacles (with the help of the Xaxxon fork of the depthimage_to_laserscan ROS module).
We have it working with XUbuntu/ROS Indigo and the accuracy looks good; the next task is to mount it to Oculus Prime and do some serious navigation testing—stay tuned…


UPDATE 2015-12-17:
Initial CAD for mounting the sensor to Oculus Prime pictured below — secured using the tripod mounting hole in the bottom of the sensor, with the frame supports keeping the head horizontal: