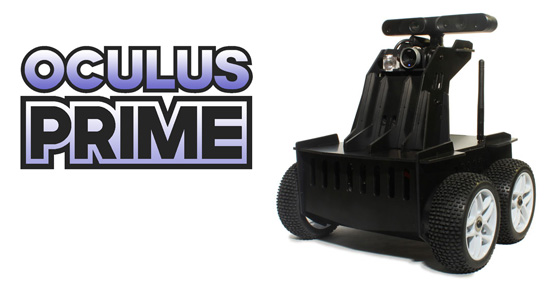 At long last, our new Oculus Prime Robot has landed!
As the name suggests, Oculus Prime builds on the technology of our Oculus Laptop Unit. It has powerful 4WD traction, it automatically docks with its charger backwards so it's not left staring at a wall, it packs the computing power of a desktop PC, and it's optionally available as a build-it-yourself kit.
It's also equipped with a gyro and wheel encoder to give it precise rotational and linear odometry. So, along with the addition of an optional Xtion depth camera and our Oculus Prime ROS Navigation module, it can map it's environment and drive autonomously, avoiding obstacles in real-time as it proceeds from waypoint to waypoint.
We're working at completing the documentation and adding content to the website, but there's plenty of info to absorb in the links below, check it out:
Oculus Prime – Overview
Oculus Prime – Details
Oculus Prime – Documentation
Oculus Prime – Shop
20 second clip: