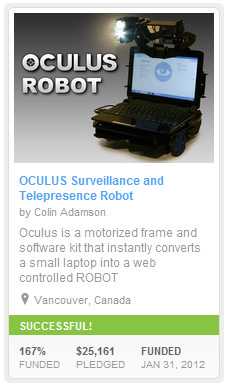 Our kickstarter campaign, launched back in December 45 days ago, finished with an incredible week, and pushed us well above our target. We're pleased, to say the least. Thanks again to all of our supporters — we will be contacting those receiving product from us ASAP, to gather necessary information.
We weren't sure if kickstarter would be the ideal venue to launch a product like Oculus, but it went well, and really, the press coverage alone would have been worth the effort.
To fill the void (now that we have no kickstarter web stats to obsess over any more) we've enabled our online store. We'll be adding the OcuLED lights accessory for pre-order pretty soon, as well as RoboRealm CV software. We'll also add automatic shipping calculation for non-US/Canada destinations as soon as we can; for now, please just contact us and we'll promptly supply a shipping quote and process your order.
UPDATE Feb-2-2012: International shipping is now enabled in our online store