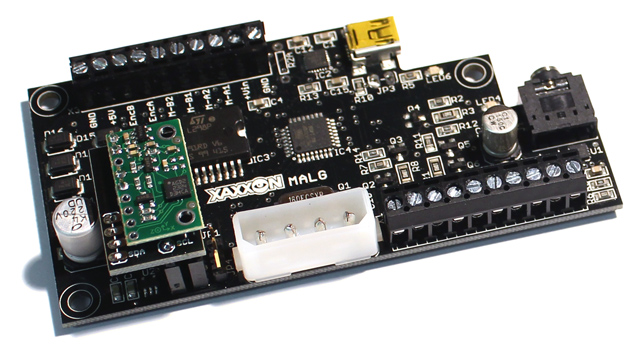 The MALG (Motors-Audio-Lights-Gyro) multi function, Arduino compatible, differential drive robot PCB is back in stock!
Our remaining old MALGs had quality issues with their MAX21000 gyro ICs. So, otherwise perfectly good boards have been resurrected, with Pololu daughter boards sporting the L3GD20 three-axis angular rate sensor.
Performance-wise it seems there is no significant difference between the two gyros: by the specs the newer L3GD20 sensor has the edge, but they both ultimately provide super-accurate rotational odometry when used in mapping and auto-navigation. (The MALG PCB is standard equipment in our Oculus Prime mobile robots).
Expansion header pins that are occupied by the daughter board are still available via pass-thru pads on the underlying interface board, as detailed in the connection diagram: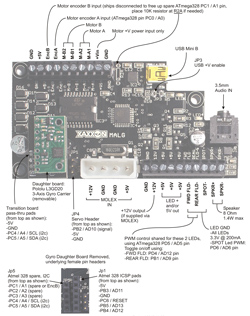 (click to enlarge)
More information on the MALG PCB (revB), including schematic and datasheet is available here. Firmware source code can be found in the github repo.