The Oculus Prime Server Application and ROS package have been updated with improved autonomous navigation capabilities, including a slick remote map interface built into the web browser client. Check it out in action in the demo video below:
Oculus Prime was manually driven around our local Zen Maker Lab 1500 sq ft area for 10 minutes, to build the map in the video – which is being used without any alterations.
The web browser map interface duplicates the basic navigation functions of ROS Rviz, eliminating the need for a separate workstation running Linux + ROS + Rviz, on the same LAN as the robot, to set initial position and navigation goals. Now all you need is a web browser and an internet connection, to send Oculus Prime crawling around the map.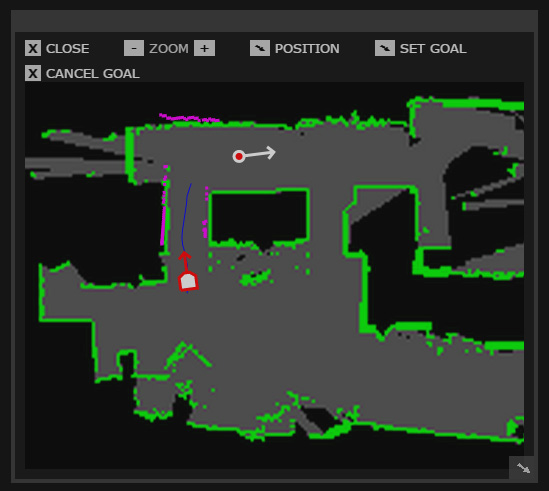 With more going on within in the remote web interface, we've added the ability to position and re-size the sub windows. You can save their positions by going to:
menu > settings/calibration > save window positions
Update Summary:
Web browser map tool
Web browser save window positions
Sub menu 'navigation' added to the web interface
Improved odometry accuracy
Better map making performance
More accurate global path following method
Camera tilt default speed reduced
General bug fixes


The Java server application can be updated from within the web interface by going to:
menu > server > check for software update
The ROS package can be updated by connecting to Oculus Prime via ssh and entering:
$ roscd oculusprime
$ git pull

Further information on map-making and other navigation/ROS details can be found here.