The first of a few NEW Xaxxon products for 2019 is the POWER v2 PCB!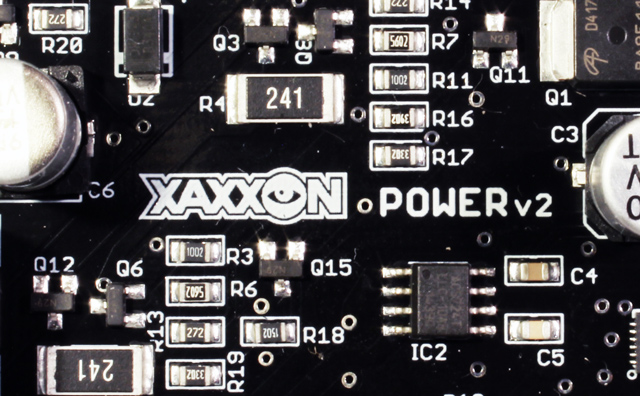 This battery charging and system power management board adds new features to the 1st generation Xaxxon Power LiPo3S PCB, and fixes issues. Enhancements include:
No parasitic battery drain (ie., you no longer need to be careful about unplugging batteries when not using the system, which should lead to fewer premature pack deaths!)
Optional daisy-chaining of multiple boards and batteries for increased capacity
Second soft power shutoff mode added: you can now kill system power only, yet keep the 5V microcontroller alive (drawing very little power), and optionally bring system power back up after specified delay
Optional isolated battery-only power out (eg., for 12V motors to never experience high wall power voltages)
Higher wall power voltages accepted, up to 20V
Protection diode and 5A fuse now on-board, simplifying wiring
Board Dimensions/Example Setup/Typical Wiring Diagram: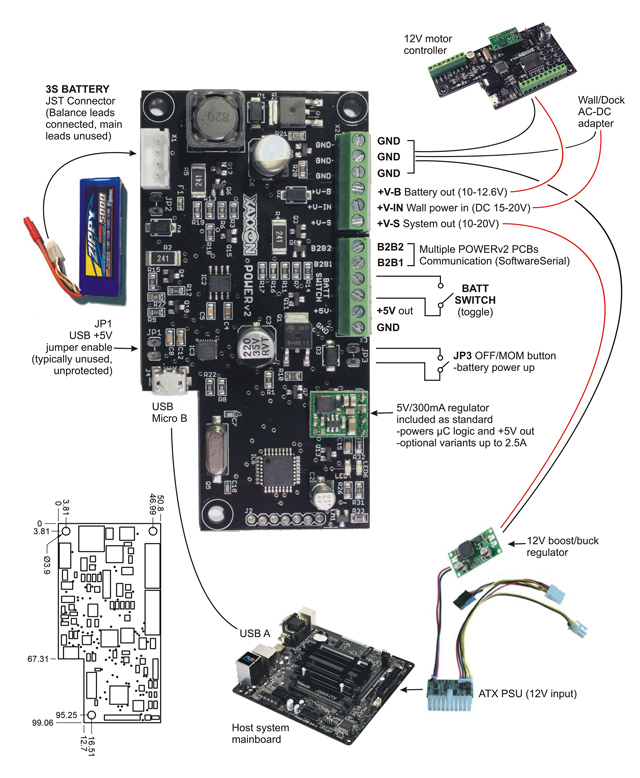 All new Xaxxon robots will be shipped with this board pre-installed, along with an Oculusprime software update that makes use of the second soft-power shutoff mode, to add a 'drownproofing' feature:
For lost robots that are unable to dock, with no remote help immediately available – instead of the usual powering down completely when the battery is depleted, the PCB will optionally power down the host system only, while leaving its microcontroller alive, then it will bring the host system back up every hour on the hour for 5 minutes, to see if any remote help is available.
The board is AVAILABLE NOW for purchase from our web store, for general mobile robotics projects, and DIY mobile PC projects. The previous generation board is still available (on sale!) while supplies last.
Bonus for current Xaxxon robot owners: if you want to upgrade to this new board you're eligible for a discount! If interested, please contact us